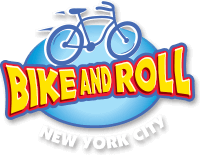 The Best Bike Tours in New York City
Ready for some Five Star Fun? Book your bike tour today!
_____________________________________
Trip Advisor Certificate of Excellence
The Bike and Roll Experience
Bike and Roll NYC offers exciting and fun bike tours of New York City.
Our comprehensive bike tours will allow you to take in the beauty of the Hudson River and Manhattan's skyline as you bike along the Waterfront Greenway. Cross New York City's famed Upper West Side and ride into Central Park, where your guide will give you the dish on notable residents who live along Central Park West and 5th Avenue!
Guided tours, self-guided rides, and private/group tours are available.
NYC Bike Tours Offered
 There is no better way to get up close and personal with all the great sites of the Big Apple than from the seat of a bike. Come, explore with us!
Bike and Roll NYC Locations
We offer two convenient locations in and around New York City.
Bike & Roll Central Park
Strategically located and the perfect launching point for trip around Central Park.
Bike & Roll Hudson Square
Access the Hudson River Greenway bike path and bicycle routes to the Brooklyn Bridge.
Frequently Asked Questions
Here are some answers to our most frequently asked tour questions. Don't hestitate to reach out with further questions.
Can I bring my kids on the bike tour?
We have individual bikes for children 4'6″ and taller; toddlers and smaller children can ride behind a parent or guardian in trailer carriers or trailer tandems that attach to adult bikes. Children must be able to operate hand brakes and be tall enough (typically 4'5″) to clear the cross bar in order to use their own bike. We reserve the right to switch a child rider to a trailer tandem if they are unable to safely operate their own bike.
What is included and what do I bring?
Bike tours include a comfort bike, helmet, a bottle of water, and a light snack. Bring a camera, wear seasonally appropriate clothing (not too loose), and wear closed-toe shoes.
When should I arrive to the tour?
Please plan to arrive 15 minutes prior to your tour time (20 minutes prior if you have booked a burley or trailer tandem). Participants arriving after the tour departure time risk forfeiture of their tour seats.
How safe are the bike tours?
Safety is our number one priority. Each bike tour begins with a safety and bike usage talk. The tour route takes place on paths, trails, and sidewalks. We provide helmets (which all tour participants must wear) as well as reflective vests and safety lights on our evening tours.
What if it rains?
We reserve the right to cancel tours for safety concerns such as high winds, thunderstorms, excessive heat/cold, or other severe conditions. We will provide rain ponchos and go out in light rain. If we cancel your tour, you may reschedule or request a full refund.
What is your tour cancellation policy?
We reserve the right to cancel any tour. Reservations may be rescheduled at any time, depending on availability. Refunds for cancelled tours are available with 48 hours' notice. Credit card refunds will be assessed a 10% service fee. Cancellations requested with less than 48 hours notice will be issued a full credit which is fully transferrable and never expires.