New York City & Central Park Bike Tours

Bike and Roll's New York City and Central Park bike tours offer the most exciting and informative cycling adventures in the Big Apple. Let our knowledgeable tour guides cycle with you on your very own two-wheeled trip as you enjoy the many sights and stories of the city that never sleeps! Guided bike tours are available morning, noon, and night all over NYC.
All Guided Tours

Include professional guide,
bottled water and helmet.
Bicycle tours are conducted on our Trek comfort hybrid bikes (sorry no tandems available on tours)
Advance reservations are strongly recommended, but walk-ups are always welcome!
Bike tours are limited to a maximum of 15 riders to ensure a safe and personal experience.
Central Park is located in the middle of one of the most exciting, energetic and dynamic urban environments on Earth … New York City. One of the great secrets of this world-famous destination is that most of the top sites, including Central Park, are accessible by bike, either through guided bicycle tours or bike rentals, allowing for an up-close-and-personal experience with famous spots while also getting some fresh air and congestion-free touring.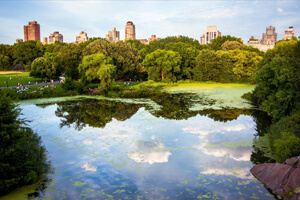 Our see-it-all guided Electric Bike Tour of Waterfront and Central Park will put you in a "New York State of Mind!"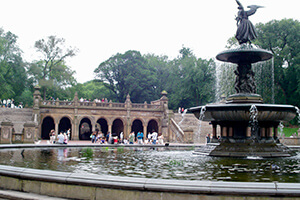 Our Inside Central Park Bike Tour will take you to some of the most iconic park attractions.
What will you see along the way?
Pretty much everything…
TOP SITES IN CENTRAL PARK